The hallmarks of this extended seller's market – unprecedented valuations and aggressive debt availability being driven by non-bank lenders – continued unabated in the second quarter of 2017, according to GF Data's just-released August report.
201 private equity groups and other deal sponsors reported to the data tracking firm on 45 transactions completed in the $10 million to $250 million Total Enterprise Value (TEV) range, with valuations of 3-15x Trailing Twelve Months (TTM) Adjusted EBITDA. The average valuation was 7.4x – the highest quarterly mark in the 15-year history of the database.
"Valuations for the year-to-date averaged 6.9x, in line with last year's average and continuing the steady upward movement of the past five years," said Andrew Greenberg, GF Data's CEO. "While this market continues to fend off any expectations of cyclicality, it is also crystal clear what buyers are prepared to pay for. The premiums for above-average financial quality, size and other desirable characteristics have never been higher."
According to B. Graeme Frazier, IV, GF Data's Co-Founder and Principal, average total debt averaged 4.2x for the quarter, also a high. "There's no sign of an ease up in leverage finance. We're seeing particularly strong debt utilization in deals with unitranche financing and in larger transactions being undertaken as add-on acquisitions rather than stand-alone platforms."
"The three biggest contributors to increases in leverage multiples over the past several months are the significant capital debt providers need to deploy; the lenders' fear of losing market share; and flight to quality. The data tends to support what we are seeing in the marketplace," said Ben Marzouk, Managing Director and New York Group Head for Monroe Capital.
GF Data provides reliable external information for use in valuing and assessing M&A transactions to private equity firms, investors, lenders and other users. The firm collects and publishes proprietary transaction information from private equity groups on a blind and confidential basis. The pool of active contributors comprises 201 private equity firms, mezzanine groups, and other financial sponsors. Data contributors and other subscribers receive four products:
a quarterly report containing high-level valuation, volume and leverage data;
a quarterly supplement offering detailed information on debt and capital structure trends;
a semi-annual supplement on indemnification cap, escrow and other details; and
continuous access, through GF Data's secure website, to detailed valuation data organized by NAICS code.
---
About the Author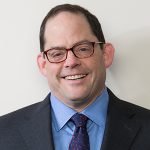 Andy Greenberg is CEO of GF Data®, based in suburban Philadelphia, and Senior Advisor of TM Capital, a mergers & acquisitions advisory firm with offices in New York, Atlanta and Boston. GF Data is the leading providing of valuation, volume, leverage and key deal term information on private transactions in the $10 million to $250 million value range. All charts and data subject to the GF Data terms of use.
---
For information on subscribing or on contributing data as a private equity participant, please contact Bob Wegbreit at bw@gfdata.com or at 610-616-4607.