Andy Greenberg's comments on Trump 's impact on middle-market deal activity.
by Joseph N. DiStefano, Staff Writer, The Philadelphia Inquirer.
President-elect Trump told voters that things aren't going as well as they should be and he can make it better.
Now's his chance. Trump is building his team with a lot of business people who hope trimming tax, pollution, labor and trade rules will mean more profitable energy, real estate and export deals.
Those dour economists who track workers and consumers for a living are still arguing what kind of shape the Obama era left this country in:
"We owe President Obama a huge thank-you," Moodys Economy.com economist Mark Zandi wrote in the Inquirer on Christmas. "Well over 15 million jobs have been created" since financial markets and factory orders froze in the dark days of 2008.

Unemployment is down to fewer than 1 in 20 workers, "as low as it ever gets." U.S. stocks are at all-time highs.

Thank who? asks William Dunkelberg, chief economist for the National Federation of Independent Business. "The economy recovered, at a historically low rate, in spite of Obama policies, not because of them," the past Temple prof told clients last week, citing higher medical insurance costs, "suffocating" regulation, and taxes.

The Republican resurgence, not lame-duck Obama, has "sent the stock market to record highs," Dunkelberg concluded.
In fact, there is a lot more hiring lately than eight years ago, and the nation has grown steadily out of its hole, though not too fast, says economist Adam Ozimek, who studied under Dunkelberg but now works for Zandi at Moody's West Chester office.
Where will we go from here?
The excitement over Trump's pro-business victory — QVC's Peter Goodnough, who tracks consumer spending, calls the reaction "animal spirits" — is priming markets and consumers to buy and borrow more.
But it will take more basic changes than lower taxes or highway-repair programs to boost U.S. growth much above 2 percent a year, according to Ozimek and the other market-watchers who prognosticated for bankers and business owners at a Chester County Chamber of Business and Industry forum Tuesday.
Schemes and speeches aside, the aging U.S. population has meant less productive investment and slower growth, the experts said. Boosting import costs and blocking smart, hard-working immigrants — if the Republicans really do that — would reduce growth, not increase it, they warned.
Here's another take: Most Americans, who don't pay to hear economists, split their votes like rival investors with different betas (tolerance of risk, as measured by price swings), says dealmaker Andrew Greenberg, managing director at Philadelphia investment bank Fairmount Partners, and a partner in GF Data, which tracks private-equity company sales.
"Hillary Clinton represented the 'low beta' alternative – two percent GDP growth, low-interest rates, negligible inflation – an economy not bound to go into over-drive or to overheat," Greenberg told me.
"Trump offers the intriguing 'high beta' scenario – the prospect of higher growth, with higher interest rates and the return of some inflation."
Put another way: Clinton won extra votes in the most economically-successful sections of the country, as well as in poor Democratic strongholds.
Check a map of how U.S. counties voted: rich metro areas _ in northern and southern California, the New York and Washington areas, Houston and Seattle and Massachusetts _ backed Clinton. As did the poorest and most-minority districts that look to government as protector — in Chicago and Philadelphia, in New Mexico, the Rio Grande and Mississippi Valleys. (See Business Insider maps here.)
Trump was the choice of many business owners seeking tax, labor and environmental-law relief, to be sure; and of middle-income people, especially the white majorities in Southern suburbs and Northern small-town counties, with less interest or faith in the old Jimmy Carter-like message that we'd better get used to slow-but-steady growth, that the old frantic building and hiring booms aren't likely to return here (see Pew pre-election poll data here). They voted for Trump, and for the hope of better opportunity.
For small and mid-sized company owners — Greenberg's clients — it's a gamble: With Trump, "from the business owner's perspective, you are balancing a basket of potential pro-growth goodies — lower taxes, less regulation, rationalization" of finance limits — against Trump positions "that could be harmful to growth — isolationist trade policy, erratic foreign policy," he told me.
While stocks are up, "the Trump rally" hasn't speeded up business deals — for now it's having "a slowing effect on business sellers," Greenberg's sale data shows.
Family business owners who might have sold by now are waiting a bit to see if Trump really will do more than Obama, he concludes:
"Given the prospect that Trump and the Congress will produce a secular lift in growth, along with policies that may benefit a given business owner's own industry, I think we'll see a lot of recalibration over the next twelve months."
---
About the Author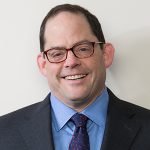 Andy Greenberg is CEO of GF Data®, based in suburban Philadelphia, and Senior Advisor of TM Capital, a mergers & acquisitions advisory firm with offices in New York, Atlanta and Boston. GF Data is the leading providing of valuation, volume, leverage and key deal term information on private transactions in the $10 million to $250 million value range. All charts and data subject to the GF Data terms of use.
---
For information on subscribing or on contributing data as a private equity participant, please contact Bob Wegbreit at bw@gfdata.com or at 610-616-4607.