Valuations and debt levels on middle-market private M&A transactions achieved record highs in the third quarter, according to GF Data's just released November report.
The 201 private equity funds and other deal sponsors that are active contributors to GF Data(R) reported on 49 completed transactions in the quarter, with an average valuation mark of 7.5x. Total debt for the quarter averaged 4.6x.
"These numbers eclipsed prior highs set in the second quarter," said Andrew Greenberg, GF Data's CEO. "We once again face the quarterly challenge of finding new ways to describe a long-lived seller's market that continues to defy expectations of cyclicality, gravity or reversion to mean."
"In the third quarter, we saw strength in valuation on smaller transactions and on deals not featuring above-average financial characteristics," added Mr. Greenberg. "These could be signs of frothy market conditions extending to more pedestrian businesses – a traditional harbinger of a crest, but this won't be the first one we have pointed to."
Valuations and debt loads on larger transaction continue to pace the market. According to
B. Graeme Frazier, IV, GF Data's Co-Founder and Principal, one area of particular strength has been add-on transactions in the $100 million to $250 million total enterprise value (TEV) range, where total debt has averaged 5.7x in the year to date, driving valuation multiples well in excess of 10x. "We think the data is picking up a shift in the buyer universe," said Mr. Frazier. "More deals that once would have traded as stand-alone platforms are now being picked up as add-ons by larger sponsors. These buyers are bringing their debt capacity and valuation tolerance with them."
Reflecting on volume trends depicted in the data, Jay Jester, Managing Director at Audax Private Equity, said: "Deal activity in 2017 started out meaningfully behind the pace of 2015 and 2016. However, second-half deal flow has picked up significantly and we could end up with a very strong year on the new deals front."
GF Data provides reliable external information for use in valuing and assessing M&A transactions to private equity firms, investors, lenders and other users. The firm collects and publishes proprietary transaction information from private equity groups on a blind and confidential basis. The pool of active contributors comprises 201 private equity firms, mezzanine groups and other financial sponsors. Data contributors and other subscribers receive four products: (1) a quarterly report containing high-level valuation, volume and leverage data; (2) a quarterly supplement offering detailed information on debt and capital structure trends; (3) a semi-annual supplement on indemnification cap, escrow and other details; and (4) continuous access, through GF Data's secure website, to detailed valuation data organized by NAICS code.
---
About the Author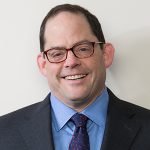 Andy Greenberg is CEO of GF Data®, based in suburban Philadelphia, and Senior Advisor of TM Capital, a mergers & acquisitions advisory firm with offices in New York, Atlanta and Boston. GF Data is the leading providing of valuation, volume, leverage and key deal term information on private transactions in the $10 million to $250 million value range. All charts and data subject to the GF Data terms of use.
---
For information on subscribing or on contributing data as a private equity participant, please contact Bob Wegbreit at bw@gfdata.com or at 610-616-4607.