Valuations on middle-market private M&A transactions continued their torrid upward surge in the fourth quarter, according to GF Data's just released February report.
The 201 private equity funds and other deal sponsors that are active contributors to GF Data(R) reported on 68 completed transactions in the quarter, with an average valuation mark of 8.1x. This eclipsed the prior high of 7.5x, attained in the third quarter.
"We needed an old movie reference to describe the current state of middle market M&A," said Andrew Greenberg, GF Data's CEO. "It's TEGWAR – the exciting game without any rules. The upward drift in valuations earlier in the year was accompanied by a continued expansion in debt utilization. This wasn't the case in the fourth quarter. Required equity share spiked from 42 to 47 percent. Whether sponsors can and will sustain this level of contribution is the key question for the early months of 2018." TEGWAR is a time-killing card game played by baseball players in the 1973 movie Bang the Drum Slowly.
While flattening out in the quarter, debt levels for the year were also a record. According to B. Graeme Frazier, IV, GF Data's Co-Founder and Principal, total debt averaged 4.3x EBITDA in 2018. "Larger sponsors continued to use their platforms to complete add-ons on a highly leveraged basis," said Mr. Frazier. "For add-ons, the average debt load was 5.5x."
"Recent stock market volatility and bumps in interest rates are not slowing the market," said Phil Seefried, President of Capstone Headwaters. "Fundamentally, business conditions remain quite strong and the tax reform legislation is highly favorable to companies. Strategic buyers are getting ever more aggressive. Sponsor valuations are more tied to leverage levels (vs. absolute rates) and we see no change there. While we are always careful to counsel potential clients about market risks, this remains a very good time to do a deal."
GF Data provides reliable external information for use in valuing and assessing M&A transactions to private equity firms, investors, lenders and other users. The firm collects and publishes proprietary transaction information from private equity groups on a blind and confidential basis. The pool of active contributors comprises 201 private equity firms, mezzanine groups, and other financial sponsors. Data contributors and other subscribers receive four products: (1) a quarterly report containing high-level valuation, volume and leverage data; (2) a quarterly supplement offering detailed information on debt and capital structure trends; (3) a semi-annual supplement on indemnification cap, escrow and other details; and (4) continuous access, through GF Data's secure website, to detailed valuation data organized by NAICS code.
---
About the Author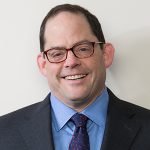 Andy Greenberg is CEO of GF Data®, based in suburban Philadelphia, and Senior Advisor of TM Capital, a mergers & acquisitions advisory firm with offices in New York, Atlanta and Boston. GF Data is the leading providing of valuation, volume, leverage and key deal term information on private transactions in the $10 million to $250 million value range. All charts and data subject to the GF Data terms of use.
---
For information on subscribing or on contributing data as a private equity participant, please contact Bob Wegbreit at bw@gfdata.com or at 610-616-4607.