High valuations and abundant use of debt continued to mark completed deal activity in the first quarter of 2018, according to GF Data's just-released May report.
Two hundred and eight private equity groups and other deal sponsors reported to GF Data on 52 transactions completed in the $10 million to $250 million Total Enterprise Value (TEV) range, with valuations of 3-15x Trailing Twelve Months (TTM) Adjusted EBITDA.
Valuations for the quarter averaged 6.9x, which taken on its own would represent a cooling off from the record 8.0x mark recorded in the fourth quarter of 2017. However, said GF Data CEO Andrew Greenberg, "We caution – especially in first quarters – against reading too much into apparent gyrations in any one quarter. Valuations had jumped into the 7.4-7.5x range in the middle quarters of last year. We think pricing stayed at this historically elevated level in the more recent periods."
Mr. Greenberg emphasized that these are averages for the entire universe. Valuation multiples on transactions in excess of $50 million continued to attain substantially higher averages.
According to B. Graeme Frazier, IV, GF Data's Co-Founder and Principal, senior debt averaged 3.4x in the first quarter while total debt averaged 4.2x – both substantially unchanged from the fourth quarter of 2017. "The fourth quarter 2017 spike in valuations looks like even more of an outlier when equity and debt data come together and we analyze capital contribution data. Average equity share jumped to 47.5% in the fourth quarter after averaging 42-43% in the first nine months of 2017," said Mr. Frazier. "Given the continued downward pressure being exerted on private equity target returns, we doubted that kind of lift could be sustained. Equity contribution settled back in at 41.9% in the first quarter."
"Looking ahead in 2018, we are feeling very bullish on continued strong M&A volume in the lower middle-market. Many companies are projecting strong second half results and want full credit for 2018, thus we predict increasing quarterly M&A volume for the remainder of the year," said Jim Childs, CEO of Bowstring Advisors of Atlanta, a middle market investment banking firm formerly known as CHILDS Advisory Partners.
---
About the Author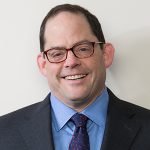 Andy Greenberg is CEO of GF Data®, based in suburban Philadelphia, and Senior Advisor of TM Capital, a mergers & acquisitions advisory firm with offices in New York, Atlanta and Boston. GF Data is the leading providing of valuation, volume, leverage and key deal term information on private transactions in the $10 million to $250 million value range. All charts and data subject to the GF Data terms of use.
---
For information on subscribing or on contributing data as a private equity participant, please contact Bob Wegbreit at bw@gfdata.com or at 610-616-4607.