Middle market deal valuations continued to show signs of plateauing in the third quarter of 2018, according to GF Data's just-released November report.
Two hundred private equity groups and other deal sponsors reported to the data tracking firm on 63 transactions completed in the $10 million to $250 million Total Enterprise Value (TEV)
range, with valuations of 3-15x Trailing Twelve Months (TTM) Adjusted EBITDA. Valuations for the quarter averaged 7.3x – essentially unchanged from the second quarter.
"There is still forward momentum in some niche sectors," said GF Data CEO Andrew Greenberg, "but more broadly, we see froth coming out of the market. Valuations may be achieving a bit of a soft landing that will enable this long-lived but fundamentally sound M&A environment to endure a bit longer."
Concurrently, Total Debt/EBITDA has edged downward from a peak of 4.4x in the third quarter of 2017 to 3.8x in the third quarter of 2018. According to Graeme Frazier, IV, GF Data's Co-Founder and Principal, "The issue is not debt availability. Buyers are making more conservative capitalization decisions."
"The 'maximum available leverage' reported by our contributors has held steady throughout this period," said Mr. Frazier. "However, the incidence of buyers reporting that they are completing deals with less than the maximum available has edged upward, from 47% in the first quarter to 49% in the second quarter and 54% in the third quarter. "
"Valuations have been in elevated territory for several years now," said Terry Bressler, Managing Director of Prairie Capital Advisors, a middle market M&A advisory firm. "While the US economy remains robust, there seems to be growing uncertainty regarding the strength of the global economy and the emerging effects of trade issues on the US. We see more conservative underwriting resulting from this uncertainty. While we've not yet seen these dynamics extend to valuations, it could well happen. We could be seeing an M&A market top."
GF Data provides reliable external information for use in valuing and assessing M&A transactions to private equity firms, investors, lenders and other users. The firm collects and publishes proprietary transaction information from private equity groups on a blind and confidential basis. The pool of active contributors comprises 200 private equity firms, mezzanine groups and other financial sponsors. Data contributors and other subscribers receive five products: (1) a quarterly report containing high-level valuation, volume and leverage data; (2) a quarterly supplement offering detailed information on debt and capital structure trends; (3) a semi-annual supplement on indemnification cap, escrow and other details; (4) quarterly industry drilldown reports; and (5) continuous access, through GF Data's secure website, to detailed valuation data organized by NAICS code.
---
About the Author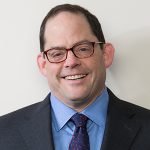 Andy Greenberg is CEO of GF Data®, based in suburban Philadelphia, and Senior Advisor of TM Capital, a mergers & acquisitions advisory firm with offices in New York, Atlanta and Boston. GF Data is the leading providing of valuation, volume, leverage and key deal term information on private transactions in the $10 million to $250 million value range. All charts and data subject to the GF Data terms of use.
---
For information on subscribing or on contributing data as a private equity participant, please contact Bob Wegbreit at bw@gfdata.com or at 610-616-4607.